MAXX WideMAXX 4x4 1/10 RTR TQi TSM Grön
Meet the New Maxx® with WideMAXX
Meet the new, wider and updated 1/10 Traxxas Maxx - now with WideMAXX suspension kit and Sledgehammer tires. The new wider Maxx expertly packages X-Maxx's innovative design elements into a lighter, more compact, more ferocious beast that is ready to take speed and strength to new levels of extreme intensity. Let the fun begin!
Snabb leverans - Oftast inom några dagar!
Snabb leverans med Schenker och spårbar frakt
14 dagar full ångerrätt
Du har 14 dagars returrätt efter du mottagit din beställning
Betala tryggt via Klarna
Få först. Betala sen (faktura), Dela upp, Dras från bankkonto, Banköverföring och Kort
Beskrivning
TELEMETRI! Traxxas Max är som standard utrustad med 4 Telemetri sensorer för; varvtal, hastighet, batterispänning och fartreglagets temperatur. För att aktivera dessa behöver du en Traxxas Link Trådlös Modul, art.nr 70.TX6511, som monteras i sändaren. Du behöver även ladda ner Traxxas Link Appen som finns i App Store och Google Play. En cool Traxxas funktion!
Features:
NEW! Equipped with WideMAXX Suspension Kit
NEW! TSM Rated All-Terrain SLEDGEHAMMER® Tires
NEW! Now also accepts the taller 4s 6700mAh Traxxas PowerCell LiPo battery
VXL-4s™ Waterproof Electronic Speed Control 3-4S LiPo
Velineon® 540XL Brushless Motor 2400kV
Traxxas Stability Management™
TQi™ 2.4GHz High Output Radio System
Clipless Body Mount System
Modular Composite Chassis with easy battery access
Heavy-Duty Steering Bellcranks and New Servo
GT-Maxx® Shocks
Tough 2.8" Wheels with Beefed-up 17mm hexes

The Maxx Experience
Extreme power. Extreme durability. Extreme fun! This is the foundation that the Maxx Experience is built upon. With the Maxx platform that is smaller and lighter, Traxxas engineers took the speed to 96+ kph, tuned it for even higher performance, and doubled-down on strength and durability. Maxx is once again reshaping monster truck fun and excitement.

96+ KPH Maxx Muscle
Traxxas Velineon brushless power hits hard with massive 4s punch and effortless wheelies on demand. Maxx feels like an unstoppable force of nature as top speeds reach an awe-inspiring 96+ kph.** Advanced 32-bit microprocessor-control constantly monitors the output for efficient, long-running performance. The high-output 540XL motor features a beefy, 5mm shaft, aluminum heat sink, and a powerful fan. Of course it's all fully protected with Traxxas' innovative waterproofing.

Traxxas Tough
Maxx is engineered to withstand extreme punishment and intense driving action. Impact absorbing suspension arms soak up the hits with ease. The heavy-duty driveline components have been proven in vehicles larger and heavier than Maxx, so there is plenty of strength to spare. The Maxx chassis absorbs and dissipates impact energy across the entire structure. Huge threaded-aluminum GT-Maxx shocks with large diameter shafts manage suspension damping. Maxx invites you to explore new ways to drive hard and have fun!


Truck Specs:
Length: 549mm
Front Track: 408mm
Rear Track: 408mm
Ground Clearance: 49mm
Weight: 4.4kg
Height: 232mm
Wheelbase: 329mm
Shock Length: 129.2mm
Tire Diameter: 140mm
Wheels Diameter: 2.8/3.6 inches (71/91mm)
Speed Control: Velineon VXL-4s
Motor (electric): 540XL (2400 kV)
Transmission: Single-Speed
Overall Drive Ratio: 11.86 (24 / 50)
Differential Type: Sealed, hardened steel bevel, limited slip
Gear Pitch: Module 1.0
Chassis Structure/Material: Composite Modular Tub
Brake Type: Electronic
Drive System: Shaft-driven 4WD
Steering: Double-shear bellcrank
Radio System: TQi™ 2.4GHz Transmitter with TSM® receiver™
Servo: Torque: 11.6kg/cm / Speed: 0.18s/60°
Top Speed: 96+ KPH with 4S LiPo battery and optional gearing (sold separately)
Skill Level: 4
Battery Tray: L162 x W45 x H51 mm

Motor Specs (Velineon 540XL):
Type: 2400 kv sensorless brushless
Weight: 317g
Length: 91mm
Diameter: 36mm
Connector Type: Traxxas 6.5mm bullet connectors
ESC Specs (VXL-4s):
Input Voltage: 3S–4S LiPo (11.1V – 16.8V)
Case Size: 72 x 59 x 49 mm
Weight: 201g
BEC Voltage: 6.0 V
BEC Current Continuous: 10 A
BEC Current Peak: 20 A
Motor Connectors: Traxxas 6.5mm bullet connectors
Battery Connectors: Traxxas High-Current Connectors
Power Wire: 10-gauge Maxx Cable
Ports: RX input, auxiliary fan, Traxxas accessory port

Profile Selection:
Sport Mode: 100% Forward, 100% Brakes, 100% Reverse)
Race Mode: 100% Forward, 100% Brakes, No Reverse
Training Mode***: 50% Forward, 100% Brakes, 50% Reverse

What's In The Box:
Maxx with WideMAXX, Ready-To-Race® model with Traxxas 540XL brushless motor
VXL-4s waterproof electronic speed control with integrated telemetry
Quick Start Guide
TQi™ 2.4GHz radio system
High quality maintenance tools

What You'll Need:
LiPo Battery: Traxxas recommends a 4-cell 14.8V Power Cell LiPo battery for maximum performance. A 3-cell 11.1V LiPo battery will operate the vehicle with reduced performance. NiMH batteries are not supported
LiPo Balance Charger with iD™: Traxxas EZ-Peak Live 4s-capable charger is recommended for easy and fast charging performance (model #2971GX)
AA Alkaline Batteries: Four AA alkaline batteries for the transmitter
*Stock Gearing
**Optional Gearing (sold separately)
***Patented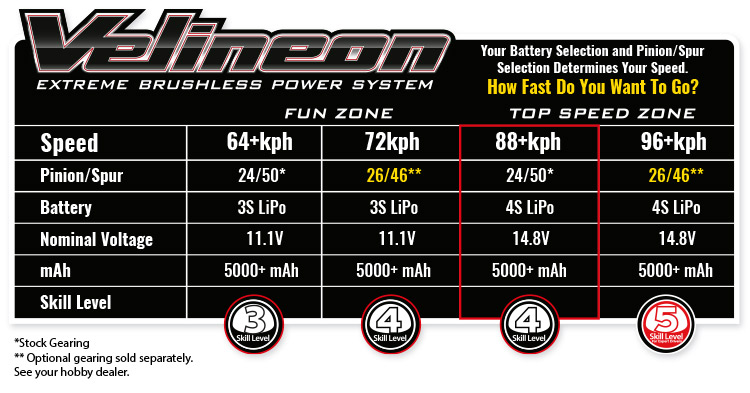 Produktfakta
Produktfakta
Drivning

4WD

Levereras

RTR

Skala

1/8

Tillverkare

Traxxas

Biltyp

Monster Truck

Drivmedel

El (Borstlös)